Year-end review time is usually exciting for me. I genuinely enjoy looking over the list of things I hoped to accomplish, figuring out what I did right and what I could have done better, and talking it all over with my very supportive boss.
Last year, most of my goals were skill-stretchers, but very few of them were directly related to testing.
Get TestRail FREE for 30 days!
Building Skills Outside Testing
I worked on my training skills by holding regular internal training classes on our latest project for our support team. I used a workshop method, where with minimal direction and lots of peer interaction, the team installed the new software and learned troubleshooting by helping each other with the problems they encountered.
I also designed and taught a workshop-style tutorial for our users. This required a more formal presentation style than the internal trainings, but it still involved lots of peer interaction. It was a big hit! I learned that I really enjoy creating and delivering training in general, and I hope that one day I'll be able to train testers with the skills they need to be great.
The biggest non-testing project I participated in was called the "strategy champion" initiative. As a strategy champion, I was responsible for sharing information about our corporate strategy with coworkers in my local office, encouraging reflection on it, and reporting back insight from my coworkers' reactions to the strategy. This was a challenge because as a relatively remote and small office, we don't always feel connected to our corporate parent. Still, I enjoyed facilitating conversations with individuals and helping different departments talk together about the strategy and how we contribute to it in different ways. It was more productive and fun than I expected, and I'm glad I took the opportunity to stretch my business understanding and facilitation skills.
Refocusing My Priorities
As I looked over my accomplishments for the year, I felt slightly disappointed for the first time in a long while, in spite of the new skills I had gained. There were two goals I had not completed, partly because of the time I spent on my training, strategy and facilitation goals.
I had hoped to create a mind map-style project status report using JavaScript, a mind map tool and an exported CSV from our product management system, but I never finished this project. I felt I had dropped the ball in other ways, too. As the lone tester on the project I am working on, the test work is still behind, and it has been difficult to catch up.
I'm still glad that I spent last year pursuing my interests outside testing, but I've decided that this year my goals will focus on solving testing problems instead of building other skills.
Receive Popular Monthly Testing & QA Articles
Join 34,000 subscribers and receive carefully researched and popular article on software testing and QA. Top resources on becoming a better tester, learning new tools and building a team.
We will never share your email. 1-click unsubscribes.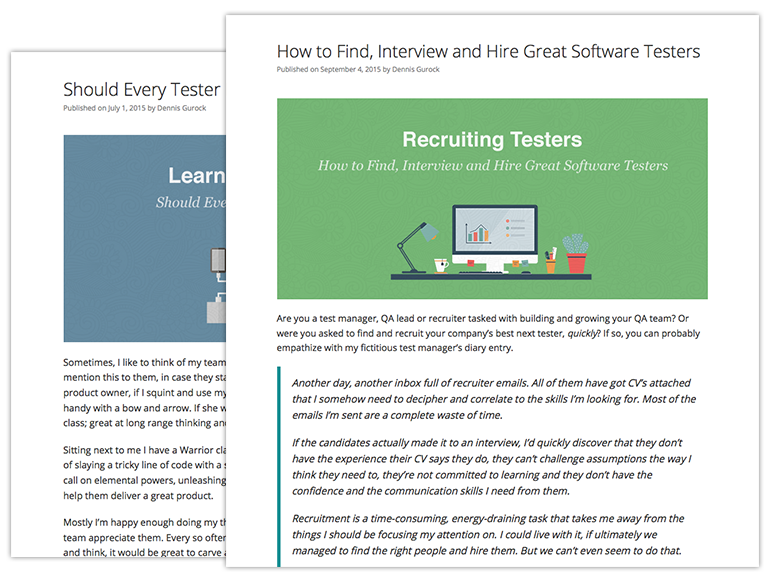 Examining Problems to Identify Goals
The first problem I want to address comes from a recent review with a product manager. We were nearing an expected release date and needed to review what features and defects had been included and what testing had been completed.
Our new project management tool does not call much attention to testing activities. Instead, it assumes that testing is part of a feature or defect, so it can be difficult to see how much testing has been done and how much testing work remains. Our developers have been focused on using the backlog to identify what remains to be done, so there is not a clear picture of the whole project status. Instead, we have to create a mental model out of a list of features and defects.
My first goal will be to revisit the idea of test reporting, focusing initially on my incomplete goal from this year of a mind map. Once I've built and demonstrated a trial version of the mind map to my product manager, I can get some feedback and do a little more research to either refine the mind map idea into something he can use, or explore alternatives that give a sense of the project status and work that remains to be completed.
Last year, I made the mistake of waiting until I had a fully functional mind map to show the project manager, so it never happened. This year, the goal will include scheduling regular progress reviews so I can work incrementally and collect feedback that will make our test reporting valuable to the project manager. As we develop the report, we may be able to make it useful to other project stakeholders as well!
Going Back to My Roots
I'm excited to be getting back into studying my craft by way of explaining it to other people. Creating ways to communicate test progress will help me understand it better myself, as well as give the people around me more confidence in the abilities of the test team to be active, valuable participants in the development process.
As the new year gets into full swing, I'll identify more problems that I can address through my annual goals. Hopefully by the time this year ends, I'll be able to look at my yearly review with pride.
This is a guest posting by Carol Brands. Carol is a Software Tester at DNV GL Software. Originally from New Orleans, she is now based in Oregon and has lived there for about 13 years. Carol is also a volunteer at the Association for Software Testing.
Test Automation – Anywhere, Anytime