We are happy to announce TestRail 5.1 today, the latest version of our modern test management tool. One of our main goals for TestRail has always been to provide the fastest user experience and most productive tool for testing teams. For TestRail 5.1 we reviewed the entire workflow of how teams work with tests and submit results during testing. After months of work we are happy to finally announce the results of our efforts: TestRail FastTrack.
TestRail FastTrack introduces redesigned test suite and run pages that support an optional three-pane view. The three-pane layout makes it incredibly fast and productive to click through your tests, review test steps, add results and jump to the next case. Not only that, we also made the most common actions even faster by adding more shortcuts, combining actions and improving workflow options. Want to review your test steps, mark the test as passed and jump to the next test in the list? With TestRail FastTrack you can now do all this with a single key press. We made a handy video to showcase the new capabilities:
TestRail 5.1 also comes with various other new improvements such as better timer features to measure your test times, easier commenting for exploratory testing, responsive elements for improved access, soft locking support for simultaneous working on test cases & plans with multiple users, as well as many more improvements. See below for detailed descriptions of the new features and learn how to start using the new version!
TestRail FastTrack – Three-Pane View
TestRail's new three-pane view allows you to see your section list, list of test cases and the details of the selected test side by side. This view is incredibly productive as it allows you to quickly open a test, review the test steps, add a result and jump to the next test. All this without navigating to another page, switching contexts or moving to another section. The new three-pane view is fully integrated into TestRail and is available from any test run or suite page. Simply select a test case via the arrow icon to expand the view and see all test details at a glance.
The new view also integrates all features known from the test and case pages, so you can easily add results, comments and review related details. And best of all: with TestRail's new responsive layout improvements, and separately configurable columns, you can also use and benefit from TestRail FastTrack if you have a smaller display.
TestRail FastTrack: incredibly productive three-pane view for faster testing
Quick Test Result Actions & Shortcuts
TestRail always focused on productivity to make it as easy as possible to go through your tests, add comments and submit results. TestRail also always required just the minimum number of clicks and even makes all fields optional by default – all this to optimize the workflow for a productive team. For TestRail 5.1 we reviewed all typical workflows and reduced the steps to add results even further. So we are happy to introduce another TestRail productivity feature today: we now support a single key press shortcut to mark a test as passed and directly select and load the next test as part of TestRail FastTrack.
To support this, we added new Pass & Next actions, along with additional quick action buttons for other test results. Likewise, we added various additional keyboard shortcuts to make it even faster to navigate between test cases, open the Add Test Result dialog, toggle the three-pane view and add comments.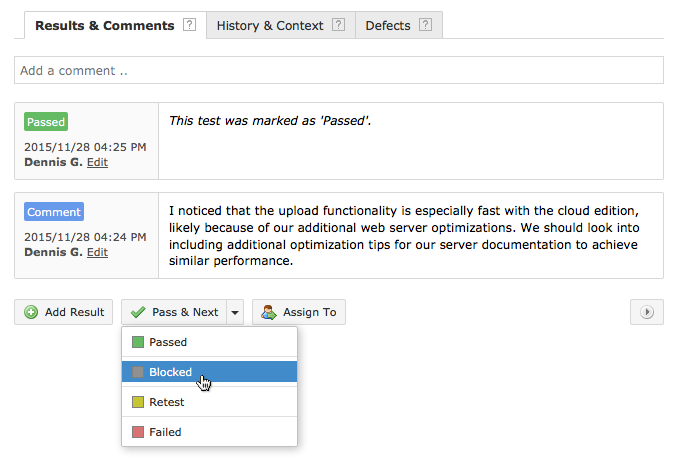 Add test results & jump to the next test with a single mouse click or key press
Better Timer To Measure Test Times
Measuring test times can be very useful, especially if you combine this with TestRail's unique forecast and progress reports. TestRail uses your test times to constantly improve the forecasts based on your historic time data. By basing the forecast on recent test times, TestRail's forecasts and progress reports get more and more accurate over time, all without having to manually track any test times.
We've improved TestRail's timer feature so you can now more easily start, stop and track the test timer directly from the Add Test Result dialog. This also makes it much easier to work with TestRail's timer feature when you are using separate test steps, as you can now keep the timer running while marking individual steps passed or failed. The test timer is also available from TestRail's new three-pane layout, so you can quickly access all related controls.
Measure exact test times for accurate forecast and testing progress
Soft Locking For Case & Plan Editing
TestRail stores detailed change logs of your test cases and makes these details available from the test case's History tab. You can easily see the exact changes team members made, which fields were updated and when those changes were applied. Likewise, when you make changes to test plans, you see an exact summary of changes before saving the plan. This works great even with large teams making many changes in parallel, as TestRail was specifically designed to handle this well (with some customer instances having 1,000 testers and more!).
With TestRail 5.1 we are now introducing an additional related feature: soft locking. Soft locking for test cases and test plans automatically detects when another user made changes to the test case or plan while you were on the edit page. When you try to save the changes, TestRail automatically detects this and warns you. You can then review the other user's changes to accept or override them. This approach works great as you don't have to manually lock any cases, but still get the full benefits of a warning to prevent accidentally overriding other users' changes.
Soft locking to warn users about simultaneous edits by other users
Fast Test Comments For Exploratory Testing
Teams have always used TestRail to combine and track their manual, automated and exploratory testing in a central place. This works great as it's really easy to use TestRail's test cases to plan exploratory testing sessions, record session details and add comments, screenshots and test results as you test and explore a specific feature or application module.
As part of the new release we are now making it even easier to add comments to your tests so you can record interesting findings, screenshots and review comments for your tests. Both on the test pages and as part of the new three-pane view we now have ready-to-use comment boxes that invite users to leave their remarks. This also further encourages collaboration and TestRail automatically shows additional formatting options to make it easier to include images, tables and files.
Quickly add new comments (including images & screenshots) to your tests
Additional Improvements
TestRail 5.1 also comes with many additional new features, improvements and productivity enhancements. We've listed some of the additional enhancements below and and please see our full changelog below for a complete list of changes.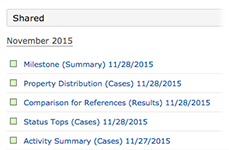 More Compact UI
We also reviewed various pages and page elements in TestRail to make the components and interface more compact. This is especially helpful if you have a lot of data and this applies to the reporting overview tabs, as well as the test result lists.
Responsive Layout Improvements
TestRail is usually used together with another application under test and not everyone has the luxury of a multi-monitor system. So for TestRail 5.1 and especially our new three-pane layout we made many elements on the test run pages responsive.
Improved JIRA Configuration
The new JIRA configuration wizard that we introduced in TestRail 5.0 makes it super easy to get started and configure your JIRA integration. For TestRail 5.1 we improved the integration wizard further so it works great with existing defect variables.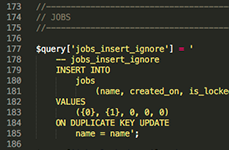 MySQL 5.7 Support
If you are using our TestRail Cloud edition, you can stop reading as we take care of all the minuscule server details for you! If you are using TestRail Server and plan to upgrade MySQL: the good news is that we now fully support MySQL 5.7 as well.
Using & Upgrading to TestRail 5.1
Upgrading to TestRail 5.1 is easy and we recommend upgrading to benefit from the new productivity features of TestRail FastTrack and the other improvements we released. We've included all the required details below to get TestRail 5.1 up and running, depending on the edition you use:
TestRail Cloud: your account has already been updated!
TestRail Server (licensed): you can download the latest version or renew your support plan from your customer portal account.
TestRail Server (trial): please contact us to upgrade your download trial.
New user: want to try TestRail? Get a free trial.
You can also review the full change log to learn more about all new features, improvements and bug fixes included in TestRail 5.1. If you have any questions or feedback about the new version, please let us know!