This is a guest posting by Simon Knight. Simon Knight works with teams of all shapes and sizes as a test lead, manager & facilitator, helping to deliver great software by building quality into every stage of the development process.
With my interest piqued by his new book, Standout, I decided to approach Ben Kelly with a few questions about his own testing career, his philosophies, passions and more besides. Read his answers below, and let us know in the comments section if you think of something I missed, or someone else you'd like us to interview.
Ben, you've been working in the testing field for a while now; can you tell us when and how you got started?
I spent my formative years convinced I was going to be a programmer. I had university and postgraduate studies all mapped out in my head as I was starting high school. The trouble was I was a crap programmer and crashed every program I came in contact with. After initially dropping out of university then going back to complete my degree some years later, I was marginally less crap at coding. I still retained the innate ability to make code fall over though. In hindsight it should have been obvious that testing was my future. "Things that should have been very obvious" is a recurring theme in my life it seems.
After graduation, I dutifully applied for programmer roles and rapidly amassed enough rejection letters to wallpaper a room. A friend suggested taking a testing role as a way to bridge into programming, which I managed to do. Then I discovered I was much better at testing and enjoyed it far more than writing code. The rest as they say is history.

Get started with TestRail in minutes
and try TestRail free for 30 days!
What keeps you motivated to continue working in the software testing industry? Have you ever been tempted to move on and do something completely different?
I don't know if I've been tempted to leave completely. I do think it's important for all testers to do things unrelated to testing and bring what they learn back.
I'm lucky in that I've tried out a bunch of things whilst keeping my day job. I've been able to compete in a sport at an elite level, dabble in the screen industry and write amongst other things.
What changes have you seen over your time in testing and what opportunities are in the pipeline for testers?
Maybe I was just very blinkered, but when I first started in testing, it seemed like it was difficult to find practitioners who deeply cared about improving the craft of testing. Now I look around and I see so many brilliant men and women doing great things and sharing their knowledge. It's inspiring. It's difficult not to want to be a part of that.
I think there's a real opportunity now to evolve the definition for what it is to be a software development professional. Beyond raw brain power and the ability to churn out code, to what it means to devote care and attention to learning the craft. To be a better human being through the practice of software development, and helping others to do the same.
You recently finished up a book on career development for testers — Standout — what's the thinking behind this? 
At its most basic, the thinking is that I want to help people. (It's also another example of something that should have been obvious to me a lot sooner.) In the last fifteen plus years I've read thousands of CVs and interviewed hundreds of people. The two things that haven't changed in this space are that few people know how to put a CV together and fewer still know how to interview for a job. It's a space where I have experience, so it feels natural to try and help.
I don't know how much further I'll step into this space, but I think there are probably another couple of books to write. The challenge will be finding the time, I think.
What do you think is your most important lesson for aspiring software testers, and why?
Learn the fundamentals of your craft and practice them regularly. Modelling, experiment and test design, communication skills chiefly among them. Learn the fundamentals of your non-testing peers – programming, UX and PM/O. The better you understand what your peers are trying to achieve, the more useful you can be in helping them. The more effectively you can communicate important information in the language of your audience, the more valuable you will be.
Are you still hands on as a tester? You recently setup a branch of the House of Test in the UK… How's that going?
In a sense . Right now I'm not so hands on in terms of testing in a team with a specific project.
I am hands-on in terms of helping software development professionals to produce their best work. Similar principles, different granularity. I do think testing fundamentals are important to revisit regularly, lest you find yourself too far removed from the practice itself to be actually useful.
As for House of Test, it's going well. As I've alluded to, running the business takes up a good amount of my time, but it feels very much like what I need to be doing right now. I'm enjoying the challenge very much indeed.
In your blog post here, you cited spending more time with your family as a reason for moving on from eBay. How's that working out? What else are you passionate about & spending your time on?
I work more hours than I did when I was employed by someone else, but the extra hours I do at home. If you asked my wife, she'd probably tell you I try to do too many things. She's far more patient with me than I deserve. Other than writing a book and running a company, there's screenwriting, language study, lifting heavy things, boxing and the occasional dabbling in the film industry. I'll get back to kendo at some point too. Mostly though, my daughter is a very cute, but very effective time and productivity thief. I find it difficult to do anything aside from try to make her laugh. I'm completely hopeless when it comes to her.
You also allude (in your blogpost) to a big vision – doing more than just changing "a single company". Do you feel ready to share what that vision is?
Buckle in. This might get lengthy.
I'd like to leave the industry better than I found it. I've worked in the industry for a while now. I'm not sure that I've worked much on the industry.
I must thank David Greenlees for prompting me to marshal my thoughts in this area. I wrote a chapter for his anthology 'Software Testing as a Martial Art', and what started as a bit of a rant about Japanese terminology, turned into a sort of essay on the virtues of the apprenticeship model (which is used in every martial art I know of) and its applicability to software development, not only from the perspective of learning the craft, but also the pursuit of improvement as a human being.
I have come to believe very strongly that software development should be taught as an apprenticeship. Study the fundamentals of testing, of programming, of UX, of PM/O with a small amount of classroom study and a much greater focus on application in industry, shadowing practitioners and getting hands-on. Internalise the fundamentals and then if you choose to, then specialise.
Embrace your time as a journeyman. Work at different places, learn and teach and expand your skills and further the craft. We should be using secondment between companies to exchange, share and improve ideas and knowledge. Become responsible for the education and the conduct of those newer to the craft.
I'd love to end up with a software development guild. An association of professional practitioners whose work speaks for itself, whose role it is to help others learn and practice software development for the improvement of the craft and of people. It's a huge piece of work and it will be some time in the making, but I think it's worth the attempt.
Receive Popular Monthly Testing & QA Articles
Join 34,000 subscribers and receive carefully researched and popular article on software testing and QA. Top resources on becoming a better tester, learning new tools and building a team.
We will never share your email. 1-click unsubscribes.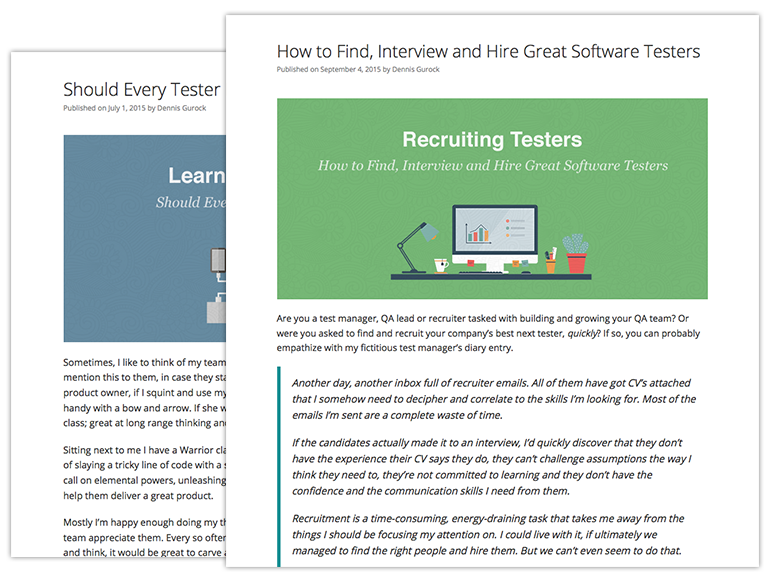 Who are the testing influencers you follow, and why?
Wow. Too many to name. If I tried, I would inevitably leave out someone important. Take a look through the folks I follow on Twitter. Every day it seems I discover people I thought I was following and am not. Other than being a glaring example of my Twitter ineptitude, I think that's a good thing. When I first started testing, there were very few strong voices saying sensible things about testing. These days, it seems I can't walk five paces without tripping over an amazingly talented tester. I look at up-and-coming testers and they're years ahead of where I was, given the same time in the field and you know, that's really exciting. I think that means that as an industry there are some things we're doing well.
I try to follow a lot of people with diverse opinions, including opinions that I vehemently disagree with. It's important not to be in an echo chamber and I think I benefit from practicing seeing the perspective of someone I'm at odds with.
Is there anyone outside of the testing field you think testers should be paying attention to? Why?
If people are not yet following Dave Snowden and looking at complexity theory and Cynefin, then they are doing themselves a huge disservice. Understanding complexity is something that is massively beneficial to software development professionals, testers especially.
Outside of that, I encourage testers to take a close look at anyone who is a professional in their field no matter what that is. Anyone who has achieved excellence in their domain. Look at what they do. Spend time with them if you can.I defy you to not learn something that will make you a better tester.
Over the 15+ years Ben Kelly has been testing he has built and led teams in Australia, Japan and the UK at companies ranging from small start-ups to enterprise level multinational corporations, including heading up software testing for the European Product Development department at eBay. Ben's view of testing and software development is heavily influenced by his martial arts background, holding a 5th Dan in Kendo and having represented Australia several times at the world Kendo championships. He is currently the managing director of House of Test UK. In addition to his regular duties, Ben likes to run workshops and speak at conferences around the world.