Over the last months our team has been hard at work redesigning TestRail's user experience and adding many often requested features to the application. And today I'm excited to announce the release of TestRail 4.0, a new major version of our modern test management tool!
The new version features a redesigned user interface, bulk editing for test cases, new powerful filter and grouping options, significantly improved navigation, baseline & single-suite support, new reporting options and much more. With more than 80+ new features, enhancements and fixes, this is our biggest TestRail release yet.
All TestRail Hosted accounts have been updated to the new version automatically and TestRail Server customers can upgrade their installations starting today. See below for a detailed release description and you can find additional screenshots in our updated TestRail tour. We can't wait to see how teams will use the new version and added capabilities!

Get started with TestRail in minutes
and try TestRail free for 30 days!
Redesigned User Experience
TestRail's user interface has always been all about speed, ease of use and productivity. For TestRail 4.0 we carefully reviewed all areas of TestRail and improved many interface elements, the typography, dialogs, navigation and how users interact with the application. We also updated TestRail's interface with a fresh, modern look. The resulting design and user experience makes it even easier for small and large teams to manage their testing efforts with TestRail.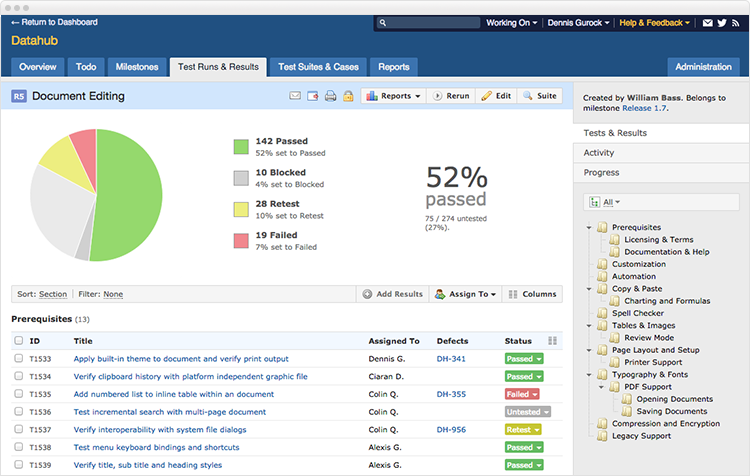 Test Case Bulk Editing
You have always been able to quickly add test results to many tests at once. TestRail 4.0 now also introduces a powerful way to bulk edit your test cases to update any of the case attributes. Whether you want to change the preconditions of all test cases in a section, update the type of your cases in an entire suite or carefully filter and change the priority of thousands of cases at once: the new bulk editing feature makes this super easy.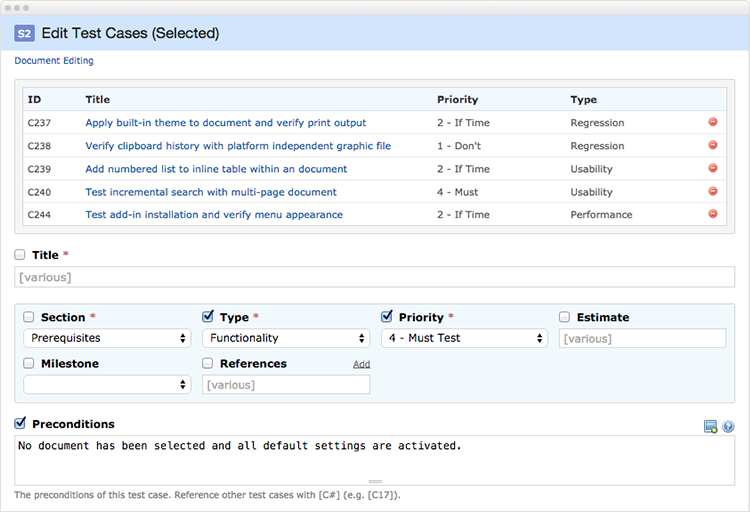 You can either select the test cases you want to update manually, or you can use the bulk editing feature together with our new powerful filtering options. We've also updated TestRail's suites to make it easier to move, copy and delete many test cases at once so you can better organize and refactor larger projects. In addition to editing many test cases at once, we've also improved assigning tests on the test run pages.
Improved Navigation
We also reviewed TestRail's suite, run and section navigation and implemented various improvements based on customer feedback and feature requests. The result is that TestRail 4.0 now also works beautifully with huge test suites and projects when using just a single test suite, making it easy to build deep section hierarchies and organize your test cases. And the improved test case navigation makes TestRail even more productive for both small and large teams.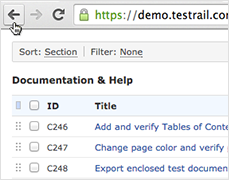 Remembering where you left off
For TestRail 4.0 we invested a lot of time to make sure that the application remembers where you left off. In practice this means that TestRail now remembers the sections you previously expanded or collapsed, automatically restores the position when you use your browser's Back button and make it easier to share links.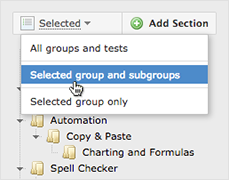 New view modes for sections & cases
When working with larger projects it's sometimes difficult to focus on the relevant test cases. TestRail 4.0 introduces new view modes to choose between viewing all your test cases at once, or to focus on just specific sections or sub sections. You can now conveniently switch between modes from the sidebar.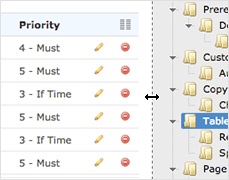 Improved scrollable, resizable sidebar
We redesigned the section and group tree on the suite and run pages to better scale for large suites and deep section hierarchies. To support this we made the sidebar resizable, added support for independent scrolling of the section list and made the list sticky when you navigate through your cases.
Suite Modes and Baselines
Based on our experience working with thousands of teams adopting TestRail over the years, we found that many teams would benefit from using just a single test suite per project and use TestRail's flexible section hierarchies to organize their test cases instead. With the new improved suite navigation and scalability we are adding a new default mode to use a single suite per project. This means that when you click on the Test Cases tab, you are redirected directly to your test cases. We still support separate test suites for existing and new projects for teams who prefer this.
In addition to the single suite mode, we are adding another alternative option to use test suites for baselines and versions in your projects. If you have the need to maintain multiple separate copies and branches of your test cases for different project versions in parallel, TestRail's new baselines make this easy. Baselines allow you to maintain a single test case repository per project and make repository copies for separate versions and branches.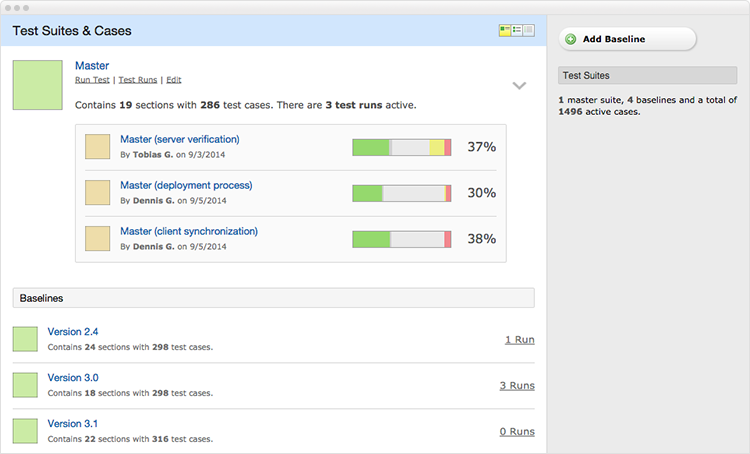 Filters and Grouping Options
TestRail always had advanced filtering options to make it easy to select your test cases for new test runs and plans. With TestRail 4.0 we are extending the existing capabilities and add powerful filter, sorting and grouping options to the test suite and run pages. This means that you can now easily filter, sort and group your tests and cases by any of their attributes to make it easier to find and work with your tests.
We redesigned the suite and run pages to include a new filter and edit toolbar at the top of the pages that stays in place when you scroll through your test lists. Together with the new bulk editing options, the filter and edit toolbar makes it super easy to update, organize or remove test cases.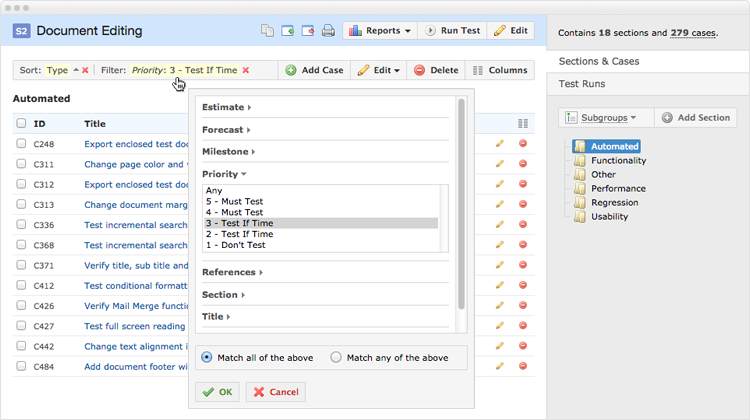 Better Case Copying & Selection
Making it easy to reuse your test cases for different testing phases, releases and projects has always been one of TestRail's design goals. In many scenarios you don't need to duplicate or copy your cases, as you can simply start new test runs against your existing suites. For situations where you want to duplicate your test cases, we have completely redesigned TestRail's copy functionality.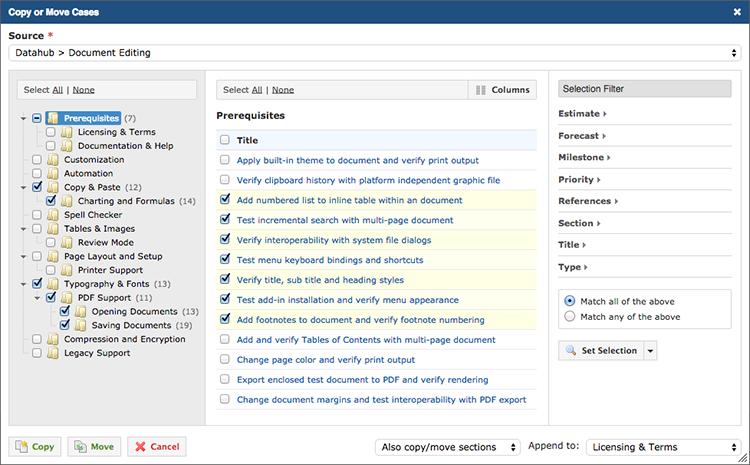 TestRail now uses a three column layout for the Copy/Move dialog to include a full section tree and test case filters. This allows us to scale the dialog for very large projects, make it easier to select and navigate sections as well as choosing test cases based on attribute filters. We've also redesigned TestRail's test case selection dialog for runs and plans in a similar way.
Improved Todo Tab
TestRail 4.0 comes with a redesigned Todo tab to integrate with and benefit from the new test run page and its filtering options. The new Todo tab makes it easy to see the workload of your team at a glance and track all tests assigned to you. You can then select any test run to drill down into the data and work with your tests.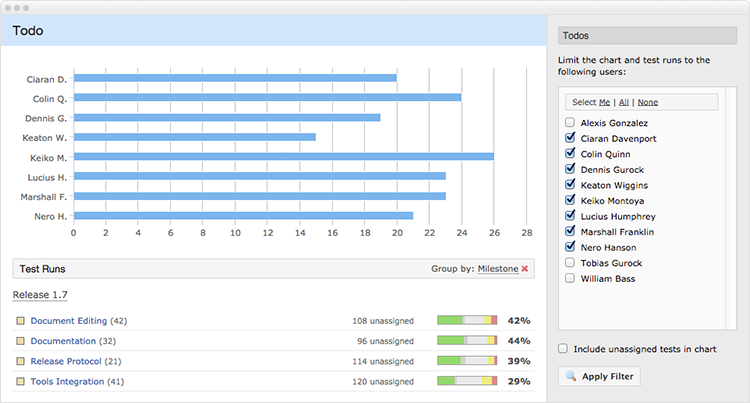 New Reporting Options
Since our big reporting release for TestRail last year, we regularly receive feedback from teams that the new reporting section is one of their favorite features. We continue to add more reporting capabilities to TestRail to make it easier for teams to gain insights from the data they track with TestRail. In the new release we are adding various new options to existing reports and introducing the Activity Summary report to easily track new and updated test cases.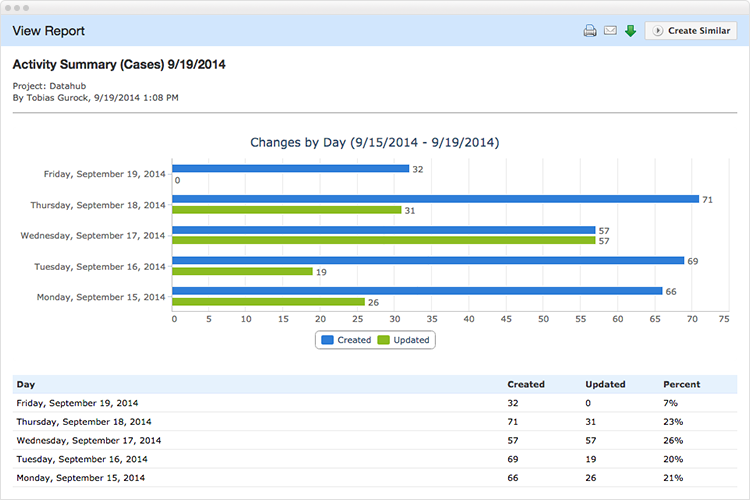 Additional Improvements
TestRail 4.0 also comes with many additional new features and improvements and we included a select list of additional enhancements below. Please see our full changelog for a complete list of changes.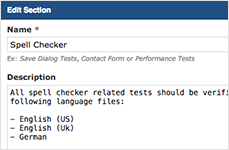 Section descriptions
TestRail now has support for section descriptions to include additional rich context information in your test suites. This also makes it easier to work with exploratory testing and plan your test sessions in advance.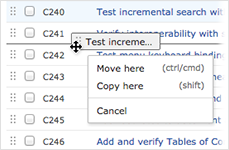 Drag & drop improvements
We've also improved the existing drag & drop functionality for copying and moving test cases to make this functionality easier to discover and use for new users. You can use drag & drop to duplicate and move test cases on the test suite pages.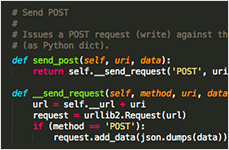 New API capabilities
TestRail's API is especially popular for integrating third-party tools and test automation. We added new capabilities to the API such as improved filter and pagination options, added new result methods and improved the error reporting.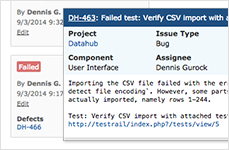 JIRA integration enhancements
For the JIRA defect plugin integration we added options to include links to other issues when you push a bug report to JIRA (e.g. "related to" or "duplicate of"). The integration now also supports JIRA custom fields that use the Label field type.
Responsive test steps
Teams using separate test steps in TestRail now benefit from UI improvements to edit test steps and expected results side-by-side. The UI automatically adjusts based on your browser size and you can now also resize the edit boxes.
Getting the new version
We recommend upgrading to the new version to benefit from the new functionality and redesigned interface. Upgrading TestRail is very easy and we've included all the required details below, depending on the edition you use:
TestRail Hosted: your account has already been updated!
TestRail Server (licensed): you can download the latest version or renew your support plan from your customer portal account.
TestRail Server (trial): please contact us to upgrade your download trial.
New user: want to try TestRail? Get a free trial.
You can read the full change log to learn more about all new features, improvements and bug fixes included in TestRail 4.0. If you have any questions or feedback about the new version, please let us know!
---
Older browser support in TestRail 4.0: similar to most other applications we are dropping support for older web browsers in new releases from time to time. Specifically, we are dropping support for Internet Explorer 7.x and 8.x with TestRail 4.0. If you cannot upgrade Internet Explorer we recommend using Google Chrome to access TestRail.